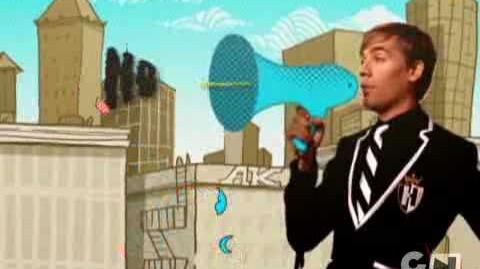 The Fall look was the fifth Cartoon Network era that, began airing on September 1, 2007, preceding with a Yes! look. Fall Is Just Something That Grownups Invented is their slogan for the rebrand. The look ended on July 13, 2008 with the Noods look replacing it.
Fall is the first look to be introduced under Stuart Snyder's lead.
September
Edit
Jakers
Martha Speaks
Sid the Science Kid
The Wild Thornberries
Arthur
WordGirl
Super Why!
Daniel Tiger's Neighborhood
Curious George
WordWorld
Dragon Tales
Go Diego Go!
Regular Show
MAD
Dinosaur Train
Blue's Clues
Jackie Chan Adventures
Higglytown Heroes
Stanley
Care Bears: Adventures in Care-a-lot
The Proud Family
Horseland
Trollz
Handy Manny
Johnny Test
Randy Cunningham
Rocko's Modern Life
Jojo's Circus
The Cleveland Show
George Shrinks
Timothy Goes to School
Marvin the Tap Dancing Horse
Caillou
Pelswick
Yin Yang Yo!
T.U.F.F Puppy
The Secret Saturdays
Star Wars: The Clone Wars
My Little Pony: My Friend is Magic
Pound Puppies
Maya and Migel
Postcards from Buster
Tower Prep
Robotomy
Allen Gregory
July 1-13
Edit
more...