Cartoon Network Studios

Begun:

1994

Status:

Active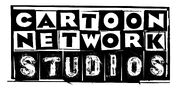 Cartoon Network Studios
is an American
animation studio
. A subsidiary of the
Turner Broadcasting System
(an arm of the
Time Warner
media conglomerate
), Cartoon Network Studios focuses on producing and developing animated programs for
Cartoon Network
. Some programming produced by Cartoon Network Studios has also been broadcast on the now-defunct
Kids' WB
, another Time Warner property.
The studio began in 1994 as a division of Hanna-Barbera Cartoons which was then focused on producing original programming for Cartoon Network, including latter-day Hanna-Barbera creations such as Dexter's Laboratory, Johnny Bravo, Cow and Chicken, I Am Weasel , and The Powerpuff Girls. In 1997, the division's productions credited them as their parent studio Hanna-Barbera.
In 1999 Cartoon Network Studios acquired its own facility located at 300 N 3rd St in Burbank, CA.[1] The site was the location of a telephone communications equipment building.
In March 2001, the Hanna-Barbera name was dropped as a production entity and the H-B studio was folded into Warner Bros. Animation. Cartoon Network Studios was then revived as a separate entity from Hanna-Barbera, growing out of the animation studioTemplate:Citation needed. Cartoon Network Studios has continued to thrive with productions such as The Grim Adventures of Billy & Mandy and Samurai Jack and newer productions such as Chowder, The Marvelous Misadventures of Flapjack and Adventure Time. The company has also produced a CGI movie, Firebreather,[2] and a non-animated series, Tower Prep.
Most of Cartoon Network Studios' shows from 1996-2001 now show as reruns on Cartoon Network's channel for classic TV cartoons, Boomerang.
Filmography
Edit
Original TV series
Edit
Television films
Edit
Theatrical films
Edit
References
Edit
↑

"Latest News", Variety magazine, 1999
List of Logo Variations on the old logo
Edit