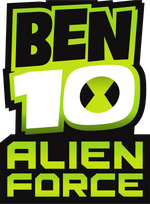 The following is a list of episodes for Ben 10: Alien Force. A total of forty-six episodes were made. 10 shorts were aired before the two part finale The Final Battle: Parts 1 and 2.
Season 1: 2008 (Episodes 1-13)
Edit
Image
Title
Number
Number overall
Original Airdate
Ben 10 Returns: Part 1
1
53
April 18, 2008
Ben puts back the Omnitrix after a hint in a hologram of Max.
150px
Ben 10 Returns: Part 2
2
54
April 18, 2008
Kevin teams up with Ben and Gwen to take down one of the DNA Alien ships.
150px
Everybody Talks About the Weather
3
55
April 26, 2008
Ben and the gang are introduced to a Pyronite who gets them into trouble with the police.
150px
Kevin's Big Score
4
56
May 3, 2008
Kevin reverts to his old tricks when he steals the Rustbucket.
150px
All That Glitters
5
57
May 10, 2008
Ben and the gang are introduced to a plumber's kid who has super powers but is not all he appears to be.
150px
Max Out
6
58
May 17, 2008
The gang has another encounter with the DNA Aliens and a Highbreed when Gwen's brother and Grampa Max go missing.
150px
Pier Pressure
7
59
May 31, 2008
Ben gets his first date with Julie but a Galvanic Mechamorph on the loose is ready to ruin it to get Ben's attention.
150px
What Are Little Girls Made Of
8
60
June 7, 2008
Ben and Gwen are introduced to their alien grandmother.
150px
The Gauntlet
9
61
June 14, 2008
Cash gets hold of the broken glove of an alien robot which gives him powers.
150px
Paradox
10
62
July 5, 2008
A failed experiment fifty years ago causes major problems for Ben and the gang.
150px
Be-Knighted
11
63
July 12, 2008
Ben and the gang team up with the Forever Knights to bring down a rampaging dragon.
150px
Plumbers' Helpers
12
64
July 19, 2008
Ben and the gang encounter rogue plumbers who get rid of any aliens on Earth.
150px
X = Ben + 2
13
65
August 31, 2008
Ben gets trapped in a new form, Alien X while the Earth is in danger of being blown to bits.
Season 2: 2008-2009 (Episodes 14-26)
Edit
Image
Title
Number
Number overall
Original Airdate
150px
Darkstar Rising
14
66
October 10, 2008
Michael Morningstar returns with more power than ever and a sinister plot in mind.
150px
Alone Together
15
67
October 17, 2008
Ben gets trapped on a desert planet in another dimension with possibly the worst partner possible, a Highbreed.
150px
Good Copy, Bad Copy
16
68
October 24, 2008
Ben is introduced to Albedo, a Galvan (who is stuck in Ben's human form) in possession of a 'knock off' Omnitrix determined to take Ben's Omnitrix for himself.
150px
Save the Last Dance
17
69
November 7, 2008
Ben has major problems controlling one of his transformations, Big Chill.
150px
Undercover
18
70
November 14, 2008
Ben and the gang go to rescue Cooper after he is kidnapped by the DNA Aliens.
150px
Pet Project
19
71
November 21, 2008
Ben's loyalty to Julie is put to the test when a mad scientist kidnaps Ship.
150px
Grounded
20
72
November 23, 2008
Ben's parents find out about the Omnitrix and ground him and eventually, Gwen.
150px
Voided
21
73
December 5, 2008
Ben goes into the Null Void after a distress call from Helen and is entitled to a huge shock there.
150px
Inside Man
22
74
December 12, 2008
Ben and the gang meet Tyler, a man who has lost his memory but has a secret.
150px
Birds of a Feather
23
75
March 23, 2009
Ben meets an Arachnachimp who asks for Ben's help to recover a precious object with intentions of his own.
150px
Unearthed
24
76
March 24, 2009
Ben and the gang face off against a monster wreaking havoc in Bellwood.
150px
War of the Worlds: Part 1
25
77
March 27, 2009
Ben is forced to call in all forces available when the Highbreed carry out their plans of destroying all life in the universe.
150px
War of the Worlds: Part 2
26
78
March 27, 2009
The team travels to the Highbreed home world to end the attack on the universe.
Season 3: 2009-2010 (Episodes 27-46)
Edit
Image
Title
Number
Number overall
Original Airdate
150px
Vengeance of Vilgax: Part 1
27
79
September 11, 2009
Vilgax returns more powerful than ever and challenges Ben who is missing some of his transformations.
150px
Vengeance of Vilgax: Part 2
28
80
September 11, 2009
Ben squares off against Vilgax.
150px
Inferno
29
81
September 18, 2009
Ben, Gwen and Kevin discover that Vulkanus is planning to drill to the Earth's center.
150px
Fool's Gold
30
82
September 25, 2009
An alien asks Ben to help locate his missing best friend.
150px
Simple
31
83
October 9, 2009
Ben and the team travel to an alien planet to resolve a conflict between the inhabitants.
150px
Vreedle, Vreedle
32
84
October 16, 2009
Ben and Kevin try to thwart repo-men sent to return Ship to his maker and appeal to a judge to rescind his ruling.
150px
Singlehanded
33
85
October 23, 2009
A bounty hunter who's after the Omnitrix sends Ben to the Null Void, but his left hand remains on Earth.
150px
If All Else Fails
34
86
November 6, 2009
Ben and the team have to thwart a Higbreed failsafe which gets accidently set off.
150px
In Charm's Way
35
87
November 13, 2009
Charmcaster returns and gets Kevin to help her to defeat Gwen.
150px
Ghost Town
36
88
November 20, 2009
Vilgax asks for Ben's help to take down Z'skayr who has taken over his planet.
150px
Trade-Off
37
89
December 4, 2009
Kevin teams up with Darkstar to retrieve an artifact that could cure both of them.
150px
Busy Box
38
90
December 11, 2009
Ben and the gang battle an alien's toy which proves to be very dangerous.
150px
The Con of Rath
39
91
January 8, 2010
The Omnitrix malfunctions, turning Ben into a ruthless and aggressive alien while on an intergalactic peace mission.
150px
Primus
40
92
January 15, 2010
Ben and the gang get transported by the Omnitrix to a strange new planet where they encounter an old enemy.
150px
Time Heals
41
93
January 22, 2010
Gwen goes back in time to stop the Omnitrix experiment from ever happening while causing disasters in the present time.
150px
The Secret of Chromastone
42
94
January 29, 2010
A sick Ben is happy to see an old friend in Tetrax but finds out he has plans of his own.
Above and Beyond
43
95
March 12, 2010
The Plumbers' Helpers travel to a Plumber station to rescue Max from an insane, rampaging Ben.
150px
Vendetta
44
96
March 19, 2010
Kevin decides to settle old scores with an escaped con.
The Final Battle: Part 1
45
97
March 26, 2010
Vilgax and Albedo return and team up to kidnap Kevin and Gwen so that they can take down their sole strongest enemy, Ben Tennyson.
The Final Battle: Part 2
46
98
March 26, 2010
Ben gives up the Omnitrix and overcomes seemingly impossible odds to defeat Vilgax who has betrayed Albedo.
Top 10 Gwen Moments
Top 10 Kevin Moments
Top 10 Scariest Moments
Top 10 Grossest Moments
Top 10 Punches
Top 10 Supporting Characters
Top 10 Aliens
Top 10 Villains
Top 10 Stupidest Moments
Top 10 Cars
Top 10 Omnitrix Aliens